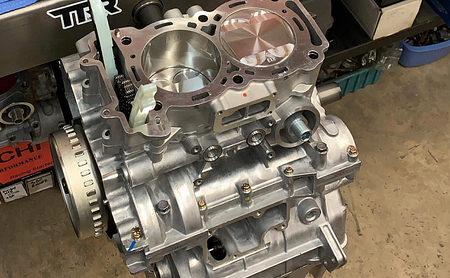 TPR Industry is fast becoming one of the leading Polaris engine builders in the country. Whether it's TexPlex, WORCS, Ultra 4, BITD, Sand Outlaw, the dunes, high end hobby or any other competitive racing environment, TPR builds engines that not only finish the race, but will keep you out in front with holeshot performance. Using only the best engine internals from BrianCrower, ARP, BME, CP, Cometic, King Bearing, Garrett, etc, TPR has proven performance packages that deliver results. Please call 619-562-9894 and discuss your build with our knowledgeable sales staff. We will steer you in the right direction on the correct parts selection for your particular needs.
Build Breakdown:
∙ Engine Assembly (new engine) - $1800
∙ Engine Assembly (used) - $2300 (incl new oil pump, chain guides, etc...).
∙ BC Engine Kit - $3150 (Billet crank, billet rods, choice of pistons).
∙ TPR/BC CNC Head - $2600 (incl all BC valve train, ARP cam cap kit).
∙ King oversize Race Series main bearings and lineboring case - $650.

∙ BC Stage 2 or 3 cams or stock cams installed, fully lashed - $600.